Traveling, staying and moving around
This page provides practical information for your travel to the Ocean Observatory of Villefranche-sur-Mer or to the Rosenstiel School of Marine and Atmospheric Sciences.
Ocean Observatory of Villefranche-sur-Mer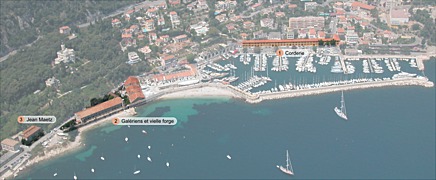 Traveling to OOV
Air
Nice's international airport is 15 kms from Villefranche-sur-Mer and is the second largest in France. It receives frequent flights from all over the world (direct flights from JFK in particular, but no direct flights from Miami unfortunately).
If you go through Paris, be aware that international flights usually arrive at Roissy-Charles-de-Gaulle airport while the most frequent flights to Nice (every half hour) depart from Orly airport. Connecting between the two airports requires to cross Paris from North to South which can be a arduous (and usually over an hour long) journey. Try to book a flight from Roissy to Nice directly.
Once in Nice's airport, you can reach Villefranche by cab, bus or train.
A cab ride is easy but likely to be quite expensive (over 50€) and not necessarily the fastest depending on traffic.
By bus, take the airport line 98 towards "Nice – Riquier". The line has a stop just in front of each of the terminals. Tickets from and for the airport are at a special rate and cost 4€. They can be bought just outside the terminals (preferably) or directly on the bus. Exit line 98 at station "Nice – Cathédrale-Vieille Ville", walk to station "Nice – J.C. Bermond" (just nearby), take line 81 towards "Saint-Jean-Cap-Ferrat – Port de Saint-Jean", exit at station "Villefranche-sur-Mer – Saint-Estève" and walk to OOV following these directions. The whole trip should take about 1 hour. You can plan your connections in Nice on the website of Ligne d'azur (start at "Aéroport T1" and stop at "Saint-Estève, Villefranche").
You can also mix bus and train. Take the express airport bus line 99 towards "Gare Nice-Ville". This line also costs 4€. Exit at the terminus (the train station) and buy a ticket for a train to Villefranche-sur-mer (10 min ride, about 4 trains per hour). From Villefranche's train station, walk to OOV following these directions (~ 20 min).
Alternatively, since all this is a bit complex, you can also let us (irisson@obs-vlfr.fr) know when you arrive and we will see wether we can arrange a car pick up!
Land
If you are already in Europe, high speed train lines (TGV) arrive regularly in Nice-Ville train station. Traveling from Paris, for example, takes about 6 hours and there is a train almost every hour. From Nice-Ville, connect with regional lines for a short trip to Villefranche-sur-Mer (10 min ride, about 4 trains per hour). From Villefranche's train station, walk to OOV following these directions (~ 20 min).
You can book your trip on http://www.voyages-sncf.com/. Search directly from your departure city to Villefranche-sur-Mer and the website should figure out the connection. From Paris, prices vary between 50 and 150€ depending on how early you book. You can pay online with a credit card but be careful not to select picking your tickets from an automat only. These automats only work with credit cards equipped with a microchip (as is usual in Europe) but do not work with the magnetic-band-only cards that are the most common in the US.
Staying at OOV
OOV has housing facilities: rooms and a small kitchen. The rooms have beautiful views, overlooking the bay (they are the upper row of windows on that picture) but showers and toilets are in the corridor, outside the room. So they are primarily targeted at students at the moment, but could be available to professors if they so desire.
Otherwise, there is a nice, small, two stars hotel just nearby: the hotel de la Darse. Rates vary between 50 and 115€ per night depending on the season and wether you want a sea view, but the OOV gets special rates. The hotel closes in winter though.
For those feeling fancier, there are several hotels a bit further away but still within walking distance of OOV. During the winter, we have a special agreement with the Hotel La Flore, with single rooms around 80€ per night.
Maps
OOV's main building (the "Station Zoologique") is located at: 181 Chemin du Lazaret, Port de la Darse, Villefranche-sur-Mer (coords: 43.696º lat, 7.306º lon).
Rosenstiel School of Marine and Atmospheric Sciences
Traveling to RSMAS
See the dedicated page on RSMAS' website http://www.rsmas.miami.edu/about-rsmas/campus-maps/.
Many airlines fly from France to Miami. The most frequent and cheapest are usually American companies (Delta or US Airways) going through JFK or Philadelphia. Air France stops at Charles-de-Gaulle or JFK and is often more expensive. Delta is part of the same group (SkyTeam) so traveling with them would be cheaper while still earning you miles.
Once at Miami's airport, you can take a cab to RSMAS. The ride is 12 miles and 20 to 30 min long, as per these directions.
You could also take the Metrorail (orange line, see the map) to Vizcaya station. From there, several buses or the RSMAS shuttle can take you across the bridge to Virginia Key and RSMAS.
Staying in Miami
RSMAS' website has a google map with a list of hotels. The two most common are:
Both hotels offer special rates for RSMAS guests.
For prolonged stays, for students for example, it is usually easy enough to find a room to rent or a flat to share. Those go from $500 to $700 per month for a room in a flat. Subscribe to the info list (see "Mailing lists" on the page for email services at RSMAS) and post a request there.
Moving around Miami
RSMAS' campus is somewhat isolated on Virginia Key and Miami is not very pedestrian-friendly anyway, so you will need a means of transport. Buses stop right in front of RSMAS and will take you across the bridge and anywhere after that. For longer journeys the Metrorail is usually faster. See more information on the website of Miami's public transport.
Commuting between the main campus and RSMAS is made very easy by a dedicated shuttle. Various administrative aspects are dealt with on the main campus (orientation day for students etc.) and the shuttle is the best way to get there. See the shuttle schedule.
Maps
RSMAS' campus is located at : 4600 Rickenbacker Causeway, Virginia Key, Miami (coords: 25.7327º lat, -80.1627º lon).